Sneha Desai, Psy.D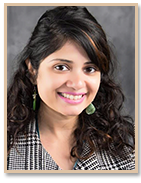 I am a licensed clinical psychologist whose work involves the treatment and assessment of many types of psychological difficulties that includes but is not limited to depression, anxiety, grief/loss, and relationship conflicts. I also have extensive experience working with children with developmental and behavioral disorders including oppositional defiance, ADHD, and autism. Additionally, I provide psychological evaluations for children and adults to help provide accurate diagnoses and treatment to help individuals achieve their true potential.
I provide a warm, culturally sensitive, supportive therapeutic environment. From the time you step into my office until you leave, it is all about your healing and progress. I focus on helping you navigate through life's inevitable struggles using a cognitive-behavioral, interpersonal, and systems approach. I place a high value on each client's personal and unique experiences. Ultimately, my goal for therapy is to empower you and help you acquire the tools and insight you need to overcome your challenges and live a more meaningful life. My office is open to individuals of all races, religions, ages, nationalities, sexual orientation, and genders.
I accomplished a Master's Degree in Clinical Psychology from Eastern Michigan University, a Doctoral Degree in Clinical Psychology at Wright State University, and have worked in private, university, school, and community clinic settings. I have been practicing in the State of Texas since 2010.